News Details
Baytalhikma at Iraq International Book Fair
09-12-2020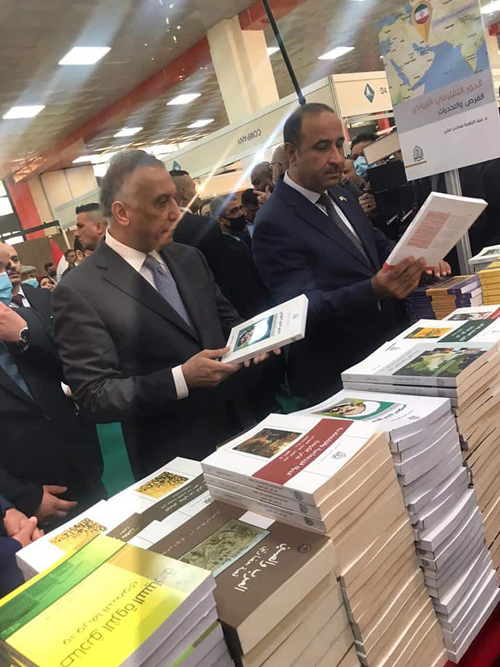 Baytalhikma at Iraq International Book Fair
In the presence of Mr. Mustafa Al-Kazemi, Prime Minister
The twenty-second session of the Iraq International Book Fair was launched for the period from
9- 19/12/2020 and under the slogan (Hala the Book) and bore the name of the great poet Muzaffar al-Nawab, in appreciation of his role in Arabic literature over the decades in which the poet added a lot of literary and popular creativity.
The House of Wisdom Foundation participated in a distinguished and large wing that included nearly three hundred titles from modern books and publications, in addition to the peer-reviewed journals issued by the departments in the House of Wisdom.
The exhibition opened its doors at TAMAM
The time is 10 am and continues until 10 pm during the eleven days, and will host dozens of artistic, cultural and media events, as well as discussion tables and seminars on a variety of topics. Dozens of Iraqi and Arab artistic and cultural figures will also participate in it.
The importance of the Iraq International Book Fair this year comes to the richness of the cultural movement and the expansion of its activities, in particular the organization of more than one book fair in it, without intersection or conflict between them, in order to enhance its contribution to the spread of reading and the circulation of the book and its facilitation by all means, which requires the convergence of possibilities Surpasses all that exists so far.
It is expected that the exhibition will attract hundreds of visitors interested in the book by creating an attractive environment for lovers of reading and browsing the papers of books that have varied in offering and attracting the visitor, despite the possibility of browsing them electronically through various modern means as an inevitable result of the technical and communication development that the world is experiencing in this era.
The House of Wisdom publications and books dealt with various topics in Islamic books, the fields of human sciences, literary, intellectual, philosophical, arts, and experimental and applied science books. The exhibition management also provided relaxation stations for visitors in order to examine the titles of the books highlighted by the wings of the role, until it finds them. Among them is what satisfies their passion for reading.